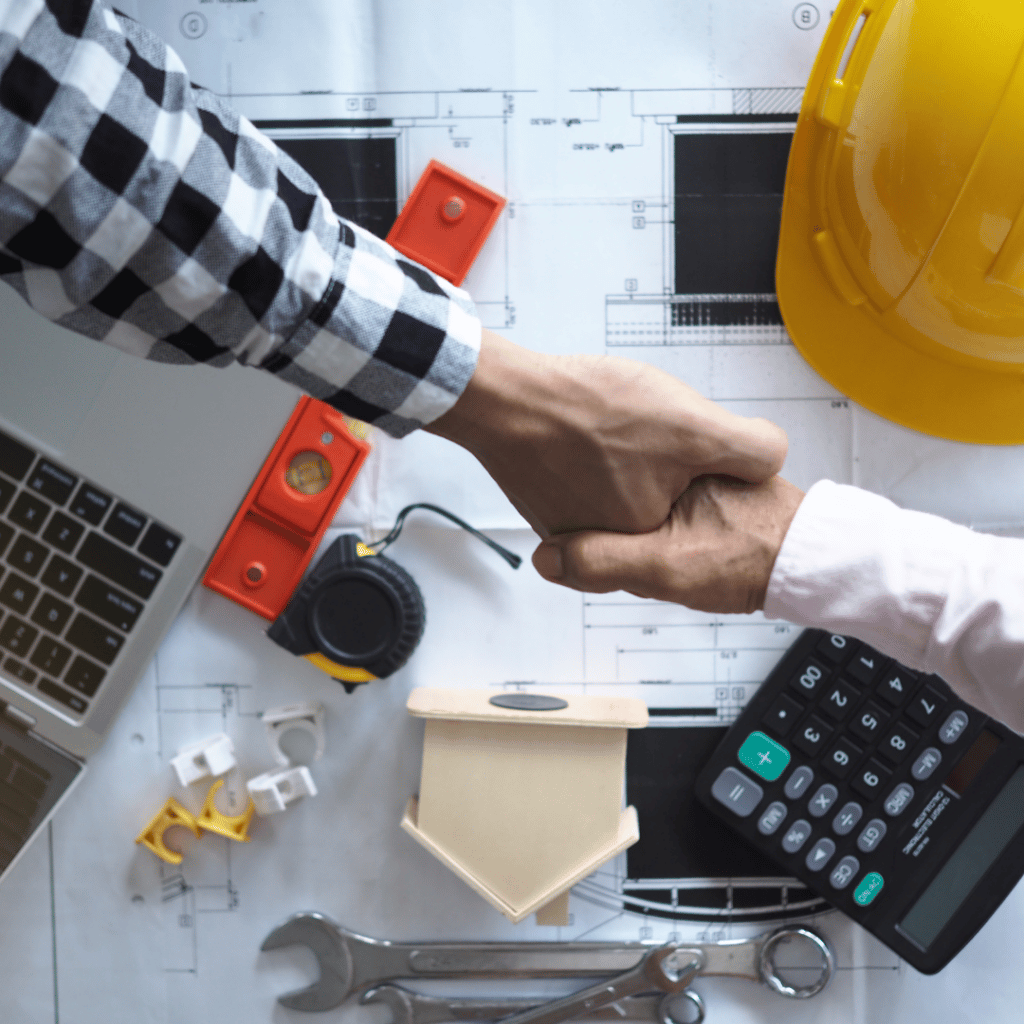 Whether you are building a whole new home or renovating a tiny bathroom, any construction project requires a competent contractor. Unfortunately, people are often unaware of how to find a good contractor and wind up suffering costly consequences. The following article details the best methods for finding the right contractor for you, the signs of a good contractor, what red flags to watch out for, and the questions you should always ask.
Knowing how to find a good contractor is crucial for any construction project, so it is important to utilize referrals from people you know and do your own research to find someone that is reliable. A good contractor will always have the proper licensing and insurance for the job, a timeline for the project with the specifics ironed out, clear contract conditions, and will be easy to communicate with. Don't shy away from asking questions about their capabilities and past work!
How to find a good contractor
As much as you may be tempted to go with the first name you find to get your project moving along, you want to make sure you give yourself plenty of options to choose from. There are a lot of contractors out there; many of them are great, and many of them are not so great. Create a list of potential contractors so you can compare and contrast and be sure that you find the right person for the job.
One of the absolute best ways to find good contractors is through the referrals of people you trust. Ask your friends and family for the names of contractors that did work for them and what the experience was like. Even if you aren't necessarily in need of a contractor at a particular moment, if you see a friend of yours got some nice work done on their home, ask them who did it! It certainly won't hurt to have the information. If someone you know had a great experience with a contractor, chances are you will have a similar experience—and the same goes for bad experiences!
Later on, after you have found a contractor you like, ask them for recommendations of people who do different types of work. If they are good at what they do and have high standards, then it is likely that anybody they recommend is going to be on a similar level.
Of course, you don't have to take other people's word for it; do your own research as well. When you get the information for someone you are interested in working with, look them up online to see if you can get more information about them. If you know somebody who is currently using a contractor you're interested in, see if you can pop on over to the worksite and take a look at what they are doing. This way, you can see what they are like on the job. There is no reason why a good contractor would not be comfortable with this, so if you paying a visit to a site is an issue for them, it may be a sign for you to take your business elsewhere. The more information you have going into a project, the better.
What makes a good contractor?
There are certain signs of a truly solid contractor that you can look for, one of the most crucial being that they have all the right credentials. A reliable contractor will have all the proper licensing and insurance for the type of work you are hiring them for. There are different types of licenses required for different types of projects, e.g., building, mechanical, electrical, plumbing, and fire (installing fire alarms, sprinklers, etc.). You must make sure any contractor you hire has the specific license required for the job they will be performing. All the different types of licenses needed in El Paso County and their descriptions are available here. Similarly, different types of insurance may be required depending on the specific type of work being done. However, some examples of standard insurance all contractors should always have include general liability insurance (to cover any damage done to your property), and Colorado worker's compensation (to cover for medical bills or lost wages).
There should not be any ambiguity. The contractor should provide a detailed contract with fair conditions and clear expectations. Important information should be on paper, i.e., total cost, a specific timeframe for the project, the contractor's license number, all contact information, etc.
Communication is also crucial: a reliable contractor should absolutely be willing to communicate with you about any questions and concerns you have and be able to provide clear answers. They should be attentive when you speak to them—you should not feel like you are burdening them whenever you interact.
What makes a bad contractor?
What you are able to find with an online search can be very telling. If a contractor barely shows up in an online search, or not at all, that is a big red flag. In this day and age, if a contractor has no online presence, you should seriously call their legitimacy into question.
You should also be extremely wary of any contractor who asks for all the money up front, or if they request for you to pay entirely in cash. You should never be paying a contractor in full before they do any work. A contractor who insists on being paid in full up front is less likely to stay on track with your project or feel obligated to do good work. Additionally, saying they need the money for materials is not a good enough reason. Even if it is true, this is another red flag that seriously calls their legitimacy into question.
If they don't pull permits, it is a sign that they are likely hiding something. Also, not pulling permits makes you responsible and you may receive a fine. You want to make sure your contractor is doing things they way they are supposed to be done without cutting corners, because that shows they actually care about doing good work—and safe work. Not pulling permits isn't slick; it's a clear indication of sloppy work and a recipe for disaster.
Questions you should ask a contractor
The following are questions you can ask that touch on the good and bad signs mentioned above:
Are they properly licensed and insured? You DO NOT want to be held financially liable for damage or medical expenses incurred on your property. It is vital that you always ask for a current certificate of insurance to be provided prior to contract signing, as well as confirming that they have the necessary licenses.
How long have they been in business? Get some information on their history. They may be a seasoned professional, or you may be one of their first clients, and whether or not you are okay with that is completely up to you. By asking about their history, you may also find out about other types of work they are able to do.
Are they experienced in the type of job you want to hire them for? Similarly, you want to make sure you are working with someone who has experience with the specific type of work they will be doing. If they don't, and you are okay with your home being their testing grounds, that's your decision!
What is the timeline for the project? You want to do your best to make sure things are kept on track. A contractor should not be vague about this. Of course, life happens and there is always the potential for delays, but no construction project should feel aimless.
What payment options are available? You want to make sure the payment method is established before the work begins. Steer clear of any requests that you are uncomfortable with.
 How can you protect yourself from a contractor dispute? 

Be upfront with your contractor and try your best to solve any issues directly and with goodwill. Just to be safe, keep as many records as possible, including receipts for materials, which you can request from the contractor. 
To search and vet contractors in El Paso County, visit the Pikes Peak Regional Building Department website here.
Find the contractor you're looking for
Finding the right contractor to work on your home can seem like an intimidating task—there is a lot riding on this one decision! However, by talking to people you trust, doing your own research, watching out for red flags, and asking the right questions, you can rest assured that you will find the right person for the job. Contact Remington Builders Group today to get in touch with the perfect contractor for your project in the Colorado Springs area!
To search and vet contractors in El Paso County, visit the Pikes Peak Regional Building Department website here.